My thesis asks the question: "How might we humanize Twitter bots to better represent the current attitudes of college-aged Republicans and Democrats?" These bots provide the structure for kinetic user personas of both strong and cross-pressured partisans. By utilizing qualitative research methods, network analysis, and the human centered design process, I have collected and analyzed interviews, debates, and other political messaging targeted at these groups in hopes of producing more accurate representations. The ultimate goal of this research is to harness the power of emotions to temporarily suspend pre-existing attitudes and provide a place for empathic discussion—something that it desperately needed in the current landscape of U.S. Politics. Recently, I was invited by the Arts Council of Southeast Missouri and the College of Design, Architecture, Art, and Planning (DAAP) at the University of Cincinnati to present my progress and findings. Additionally, a paper documenting this project was accepted into the European Academy of Design's 2019 Conference at the University of Dundee (Scotland). Currently, I am developing a workshop that addresses and challenges both the implicit and explicit biases designers may have in creating work for these audiences, as well as an immersive experience that uses these bots as facilitators of an escape room style physical environment.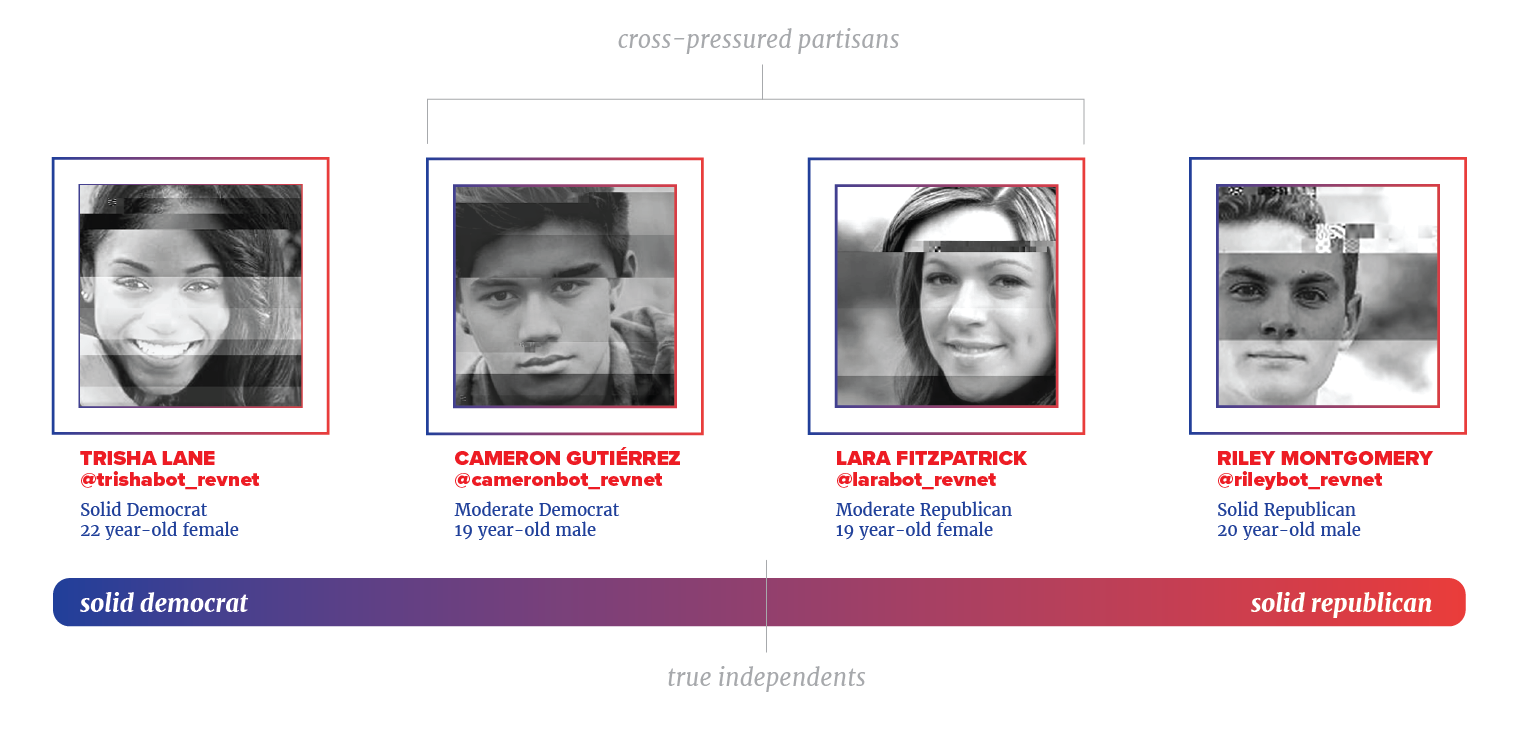 To better understand the attitudes of college-aged Republicans and Democrats, actor personas were developed by analyzing qualitative secondary sources and primary source data scraped from Twitter. These personas represent strong Republican beliefs, strong Democratic beliefs, and cross-pressured partisans from both parties.

Specific attitudes and behaviors were constructed with regularly updating Twitter bots. Each bot scrapes 3 twitter profiles. One from the national college organization associated with their party (College Republicans and College Democrats), one of the president and vice-president from each those organizations, and the highest elected official in the Senate that most represents their ideology as strong partisans or cross pressured partisans. (Elizabeth Warren–D, MA, Claire McCaskill–D, MO, Susan Collins– R, ME, Jim Inhofe– R, OK)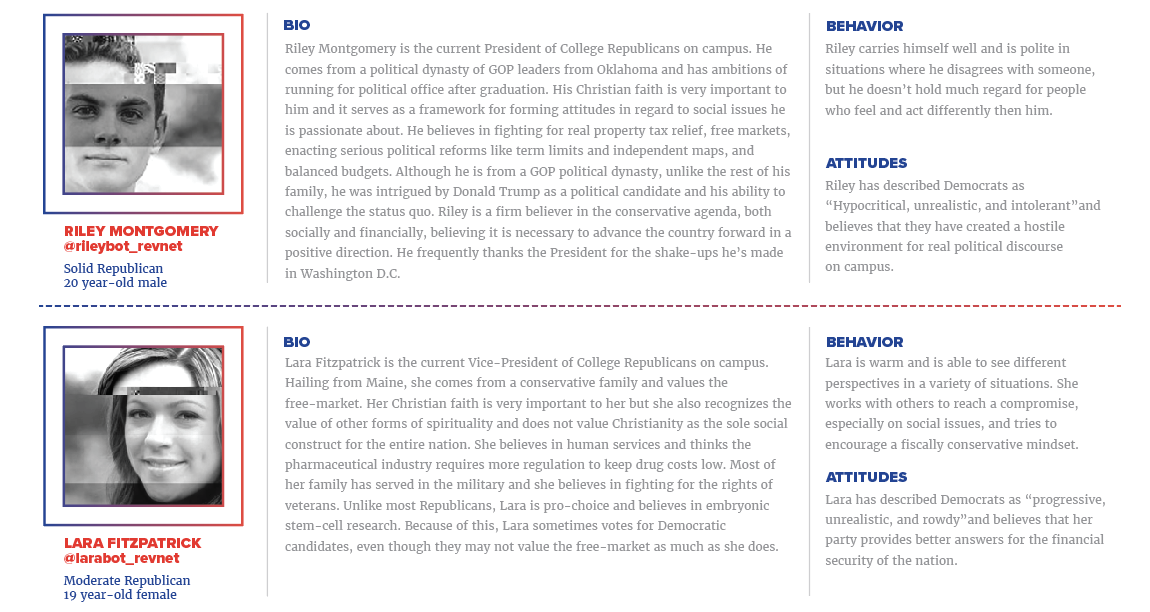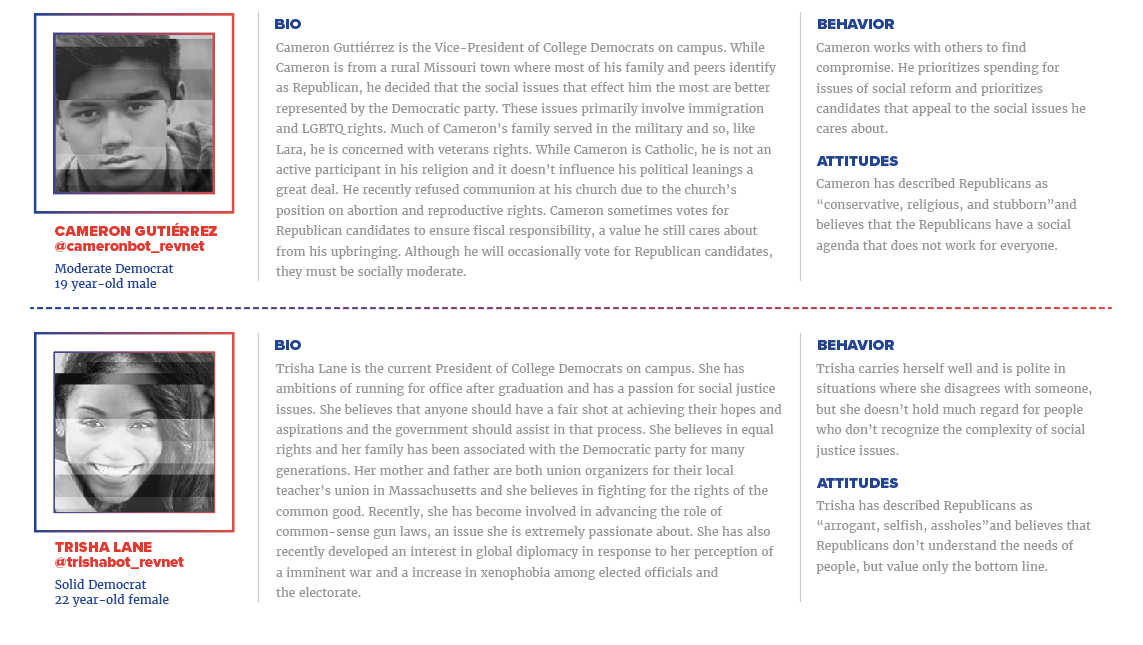 These narratives allowed personas to be created for both sides of the aisle that provide a more objective representation of behaviors and attitudes of real people, rather than designer speculation.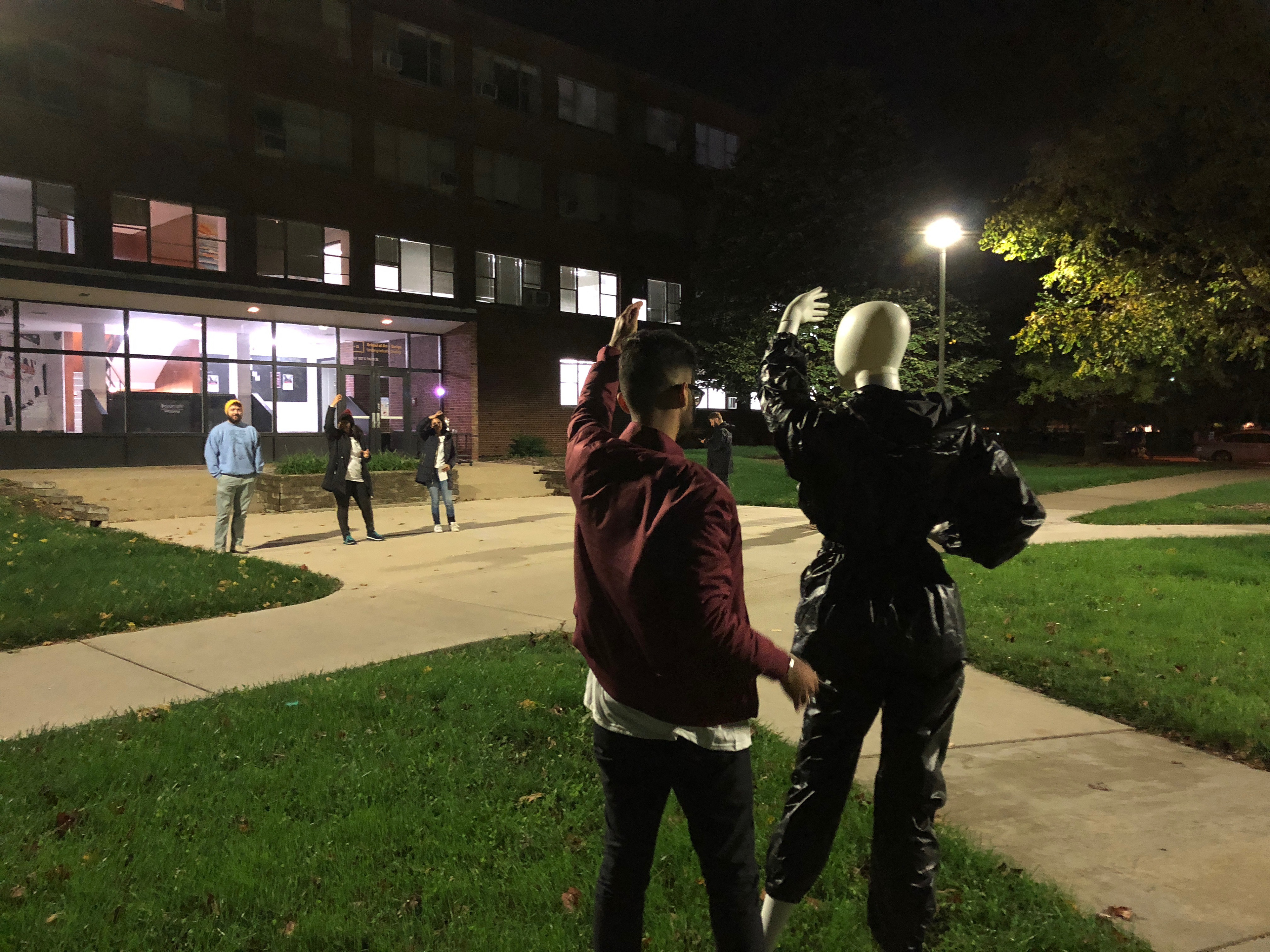 This video performance, the Reverie Network Relationship Revival, explores the faith people put in designed personas. By appropriating text from propaganda from the Donald Trump campaign, Kris Jenner, and a myriad of network marketing personalities, a new persona is created to help better understand how technology mediated relationships engage an audience. The monologue created by the persona was juxtaposed with imagery of consumption, providing a narrative to question the status quo.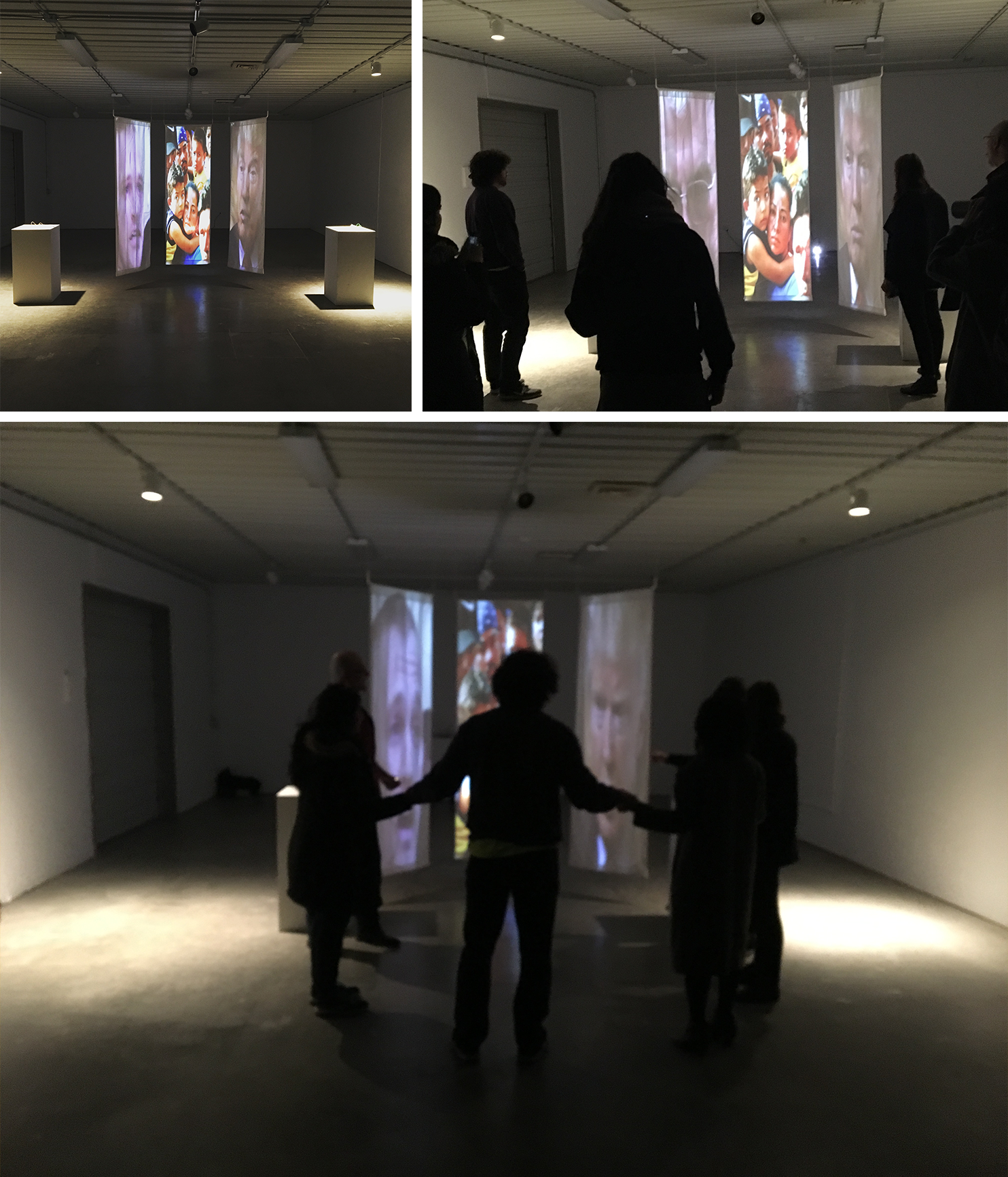 The experimental interface, Empathy Altar, asks actors to join together to discuss controversial issues through embodied interaction. In order to stop the maddening video loops, participants must join hands with the interface—prompting  a platform for discussion and response. In this particular iteration, President Donald Trump's controversial stance on immigration is illuminated, showing three different versions of the truth—Donald Trump, his supporters, and immigrants.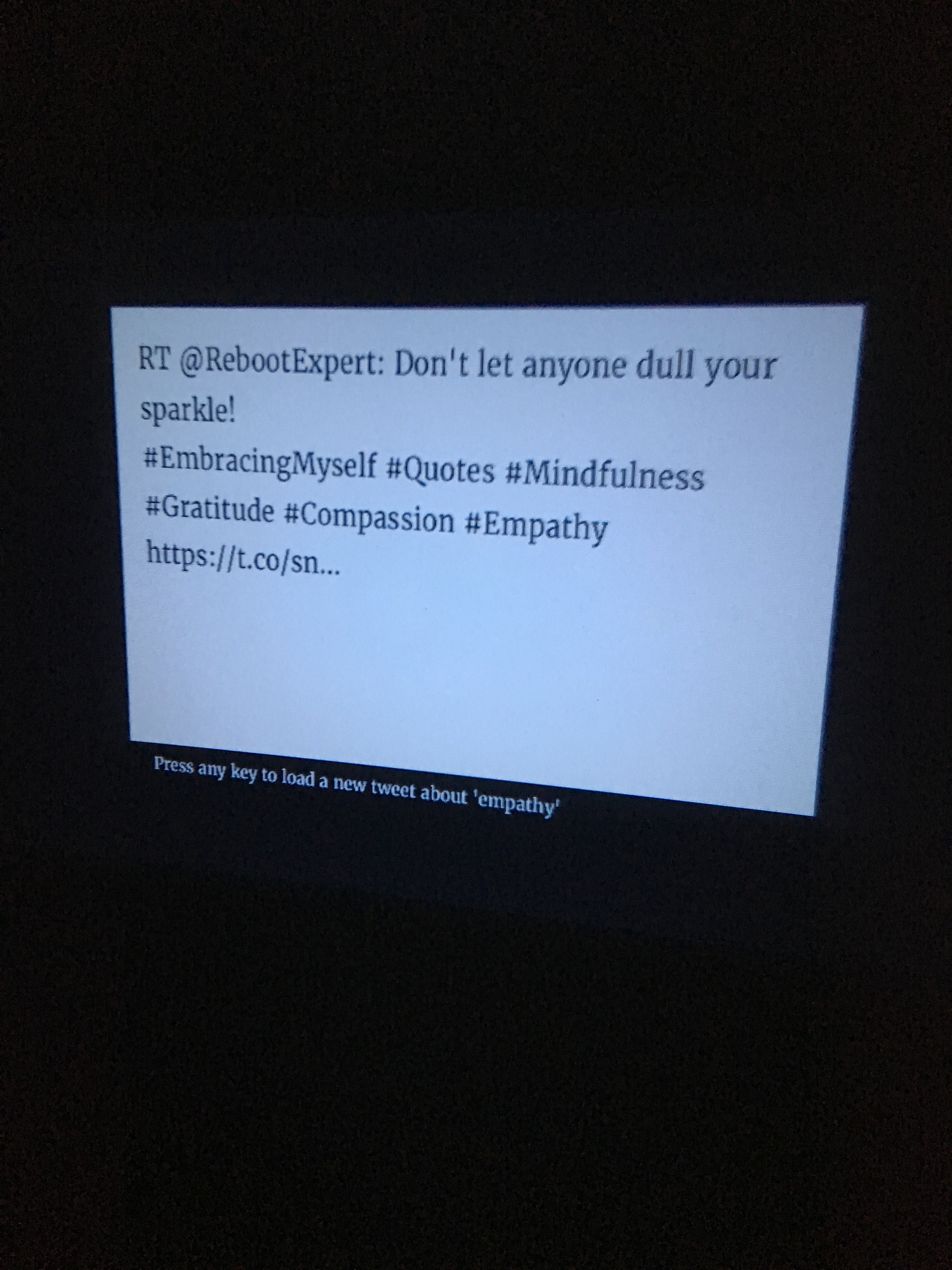 This interface, developed using Processing, scrapes and displays new tweets relating to the keyword #Empathy at the touch of a button.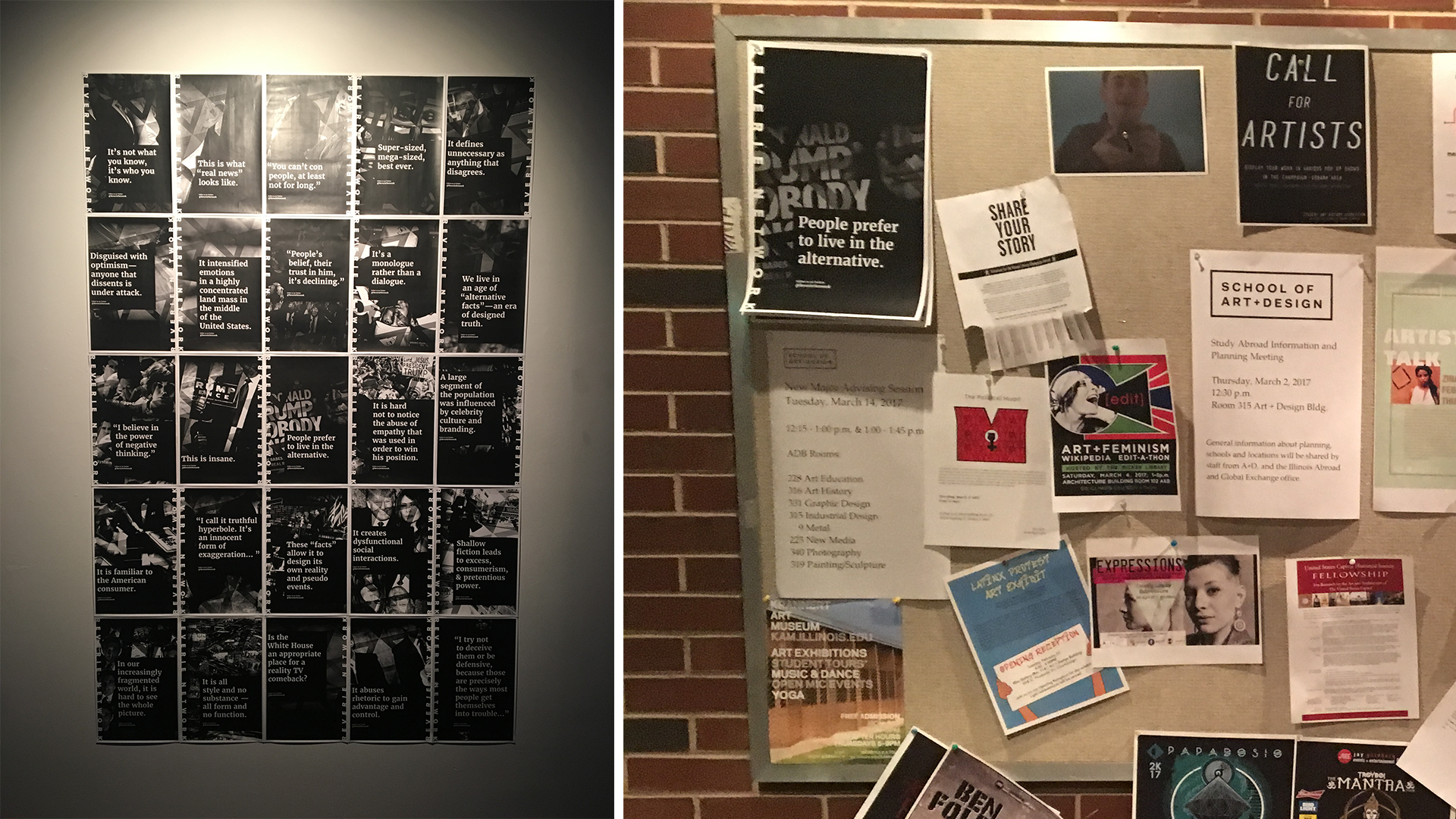 These posters were designed in response to Donald Trump's election. By appropriating the visual and rhetorical structure of the National Enquirer, they were displayed around campus to provoke multiple responses. One poster was designed and distributed per day for 30 days.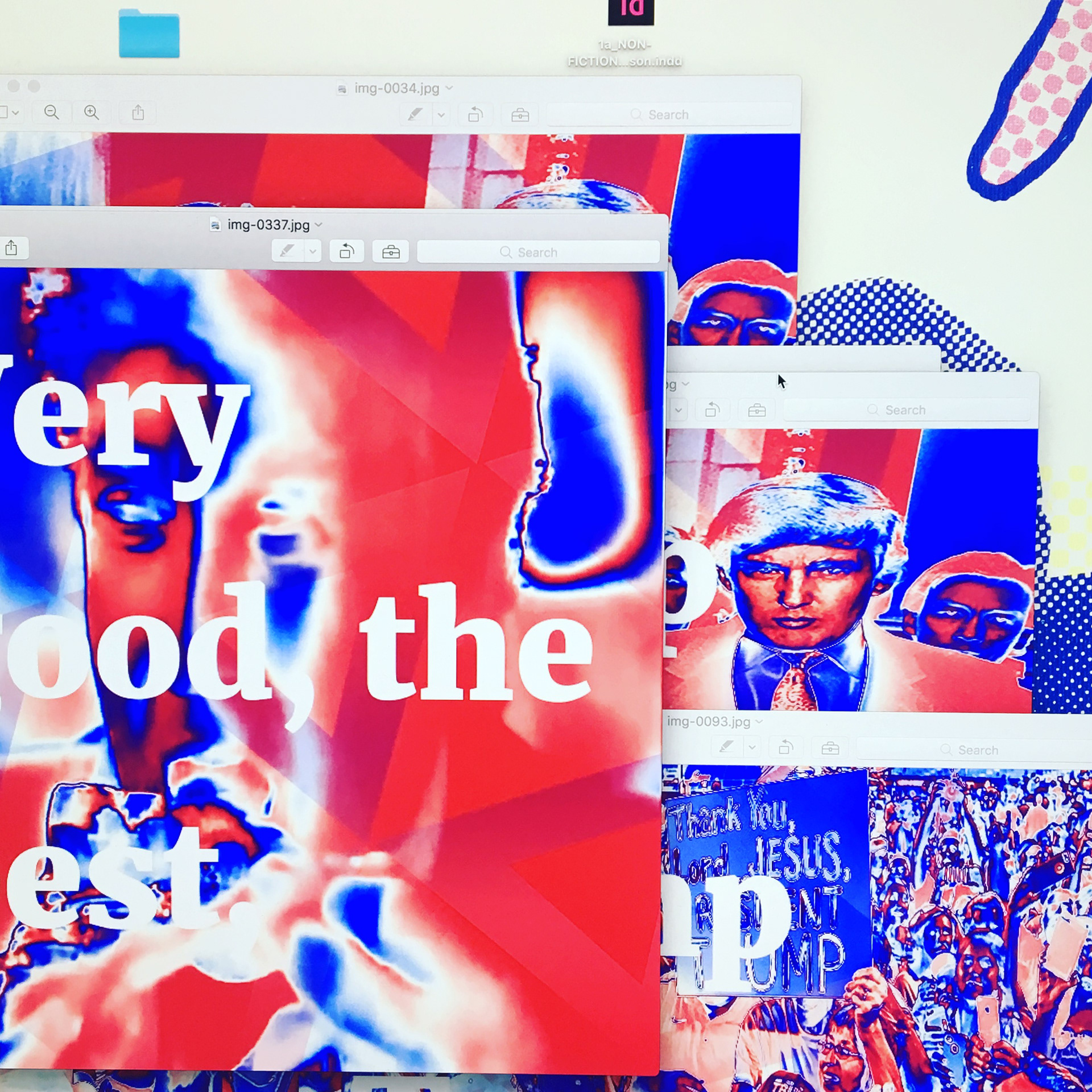 This experimental interface questions the notion of power by using the social media platform, Twitter. Once again examining the President Donald Trump, this interface focuses on the rhetoric he uses to weaponize his words. This platform provides a roulette wheel of shared images of Trump and invites actors to push a button to presumably stop the cycle of imagery. When an actors chooses to push the button, the cycle doesn't stop and instead Tweets the image with randomly generated text related to resistance to Trumps political agenda.